Five new document cameras have been funded across regional hospitals in the West Moreton Health region through a Rotary District Grant proudly secured by Ipswich City Rotary Club in collaboration with the Ipswich Hospital Foundation.
Regional hospitals in Boonah, Gatton, Esk, Laidley, and The Park now have this new technology to allow specialist doctors at Ipswich Hospital to read hard-copy medical records in real-time.
The project will provide significant benefits for the care of regional patients within the West Moreton region by providing specialist-level care in a timely manner, reduce the travel required by Queensland Ambulance Services, and support Covid-19 requirements for high-risk populations.
Included in the funding by the Rotary District Grant is five iPads to support the technology, along with additional training for staff in each Hospital to use the new technology effectively.
Rowarn Luder, Chair, Ipswich City Rotary District Foundation, said that he is proud to say that the District Grant will be used to support the health and care of the wider West Moreton community.
"We worked with Ipswich Hospital Foundation and West Moreton Health to identify the needs in our community, especially regionally.
"Rotary is all about doing good in the world. That is what you'd call our motto.
"Our Rotary Club and our Rotary district are doing good in the world by supporting our local community, residents, families, and staff in nursing homes with these new devices," Mr Luder said.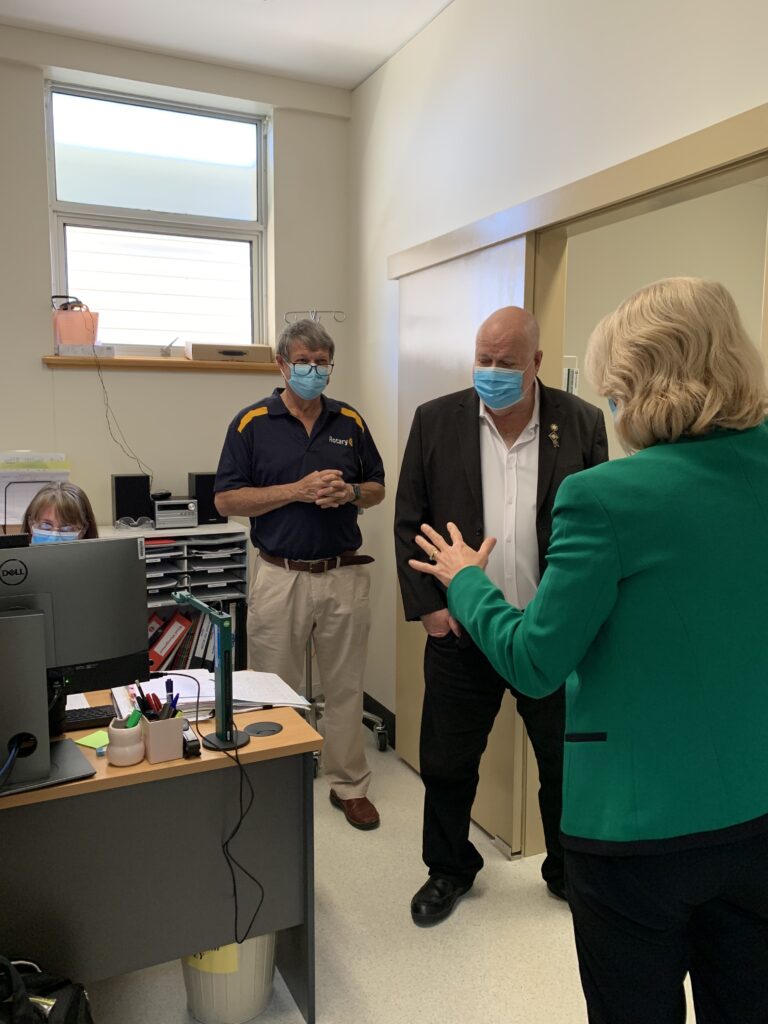 Dr Chris Raymont, President of Ipswich City Rotary Club, said that the work of the Rotary Club well and truly goes back to supporting the local community.
"We wanted to provide the residents in our regional areas with the same level of care as they would get living in Brisbane.
"This project will improve health outcomes for so many locals in our community for years to come," Mr Raymont said.
Melinda Parcell, Executive Director of Community and Rural Services at West Moreton Health, said the document cameras will allow specialist doctors at Ipswich Hospital to read hardcopy medical records in real-time.
"Document cameras enable virtual access for specialists to support healthcare staff in regional locations in real-time," Ms Parcell said.
"This type of technology supports staff across multiple locations access information and records in a timely manner, saving time transferring records across hospitals."
Ms Parcell said the new healthcare technology had many benefits for regional hospitals and their patients.
"These document cameras should reduce the need for some patients to be transferred to a larger hospital," she said.
"There are so many benefits to this technology, and the main one is that patients can be kept safe and well closer to home for longer."
James Sturges, Chief Executive Office of Ipswich Hospital Foundation, said the partnership between the Foundation, West Moreton Health, and the Rotary Club was just the beginning.
"We have a shared vision of a thriving West Moreton community in which people experience the best possible health and wellbeing.
"This is a great project that will be able to connect so many people right across the regions to new ways of experiencing care that is second to none.
"The Rotary Club wants to good, West Moreton Health wants to good, and the Hospital Foundation wants to do good. It is great that we can all connect to achieve great health outcomes for our community," Mr Sturges said.